It's official! I am a speaker at the ninth FOSDEM!!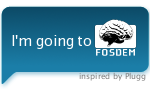 I'll be holding a talk about Large Scale XMPP. In the last few years we've encountered many problems with our XMPP installations, which were directly related to their size and / or the type of infrastructure we run. But I won't announce too much about the content yet 🙂
I'll probably post some more stuff about FOSDEM in the next few days. I'll be updating my pages on FOSDEM.org in the next few days, just need to find some text to write.
I'll be there on Friday (Beer Event), Saturday and Sunday. So definetly come by and say hello. I'll probably be around the XMPP Devroom or XMPP Stand.