Last.fm has a new look!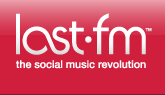 I have to say, Last.fm have done a great job redesigning their website. It is even nicer, and has even more cool features.
Another nice thing is the new piece of software they have released called … who would of have guessed … Last.fm .
For those who don't know what Last.fm is:
Last.fm is a Website where you can rate your music which you listen to. It also gives you tips of music which you might like. And the best thing of all: amaroK, my favourite Music Player supports it !
Here is a small feature of Last.fm, you can post your recently played info on your Website.
Tell me what you think of Last.fm. And if you want, you can add me to your friend list.